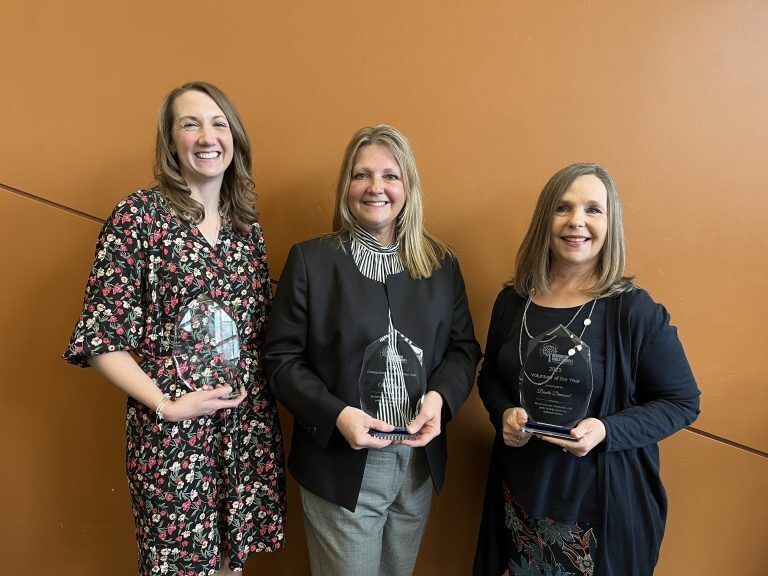 Over $141,000 through 121 scholarships were awarded to 76 students from Bennington High School class of 2023 at the Bennington Public Schools Foundation's (BPS) 23rd Annual Awards Ceremony on Sunday, April 23, 2023.
Students planning to attend both two-year and four-year colleges or technical schools are eligible to receive BPS Foundation and local organization scholarships. They are recognized for a variety of criteria such as academic achievement, extracurricular involvement, and community service.
This year BPS Foundation awarded $106,000 in scholarships for 64 graduating seniors. The first BPS Foundation scholarship was given in 1998 for $300. Today, BPS Foundation has now given out a total of 476 scholarships, totaling approximately $656,000.
Several students were also awarded with scholarships from local organizations totaling approximately $40,000.
BPS Foundation also awarded five special "Of the Year" recipients, which were nominated by their fellow District staff and community members. Starting this year, the New and Distinguished educators of the year were awarded with $1,000 and the Support Staff of the year was awarded with $500.
To view scholarship selection criteria click here.
For information on on how to create a future scholarship for students, contact us.
BPS Foundation scholarship recipients include:
Merit Platinum $2,500: Noah Andersen, Ashley Anderson, Nick Colvert, Tyler Crawford, Owen Douglas, Emma Foland, Weston Heinemann, Brinlynn Johnson, Alexis Keatts, Hannah Madden, Tyler Mead, Chloe Miller, Jackson Miller, Julian Nelsen, Kai Olbrich, Mason Pfister, Ella Reinoehl, Emma Robinson, Jenna Robinson & Megan Wilkins.
Merit Gold $2,000: Carly Bishop, Tyler Butler, Daphne Henke, Meghan Krejci, Katrina Liffring, Madalyn Nelsen, Morgan Pudenz, Payton Salcedo, Parker Thomsen & Gabriel Wry.
Merit Silver $1,500: Abigail Brown, Isaac Conner, Ethan Korth, Lauren Main, Chloe Stuckenschmidt, Mallory Tobias & Cooper Willoughby.
Merit Bronze $1,000: Amberlyn Berndt, Steve Burgers, Gabriela Calderon, Aviana Freed, Kennedy Gansebom, Brooklyn Henzel, Lennox Hughes, Wren Larson, Kaylee Natho, Morgan Nick, Tyler Reiss, Darby Ryan, Madison Schmaderer, Reese Smith, Kaeli Vondra, Maya Wallingford & Connor Ziska.
Career $1,000: Daylon Heater and Noah Miller.
Bunz Family Endowed $1,500 Scholarship: Samantha Jansen.
All Star Kids Employees $500: Carly Bishop, Steve Burgers, Lauren Buzbee, Ayo Makinde, Mason Pfister, Carter Pritchett, Selah Ryan, Raylyn Rhiley & Parker Thomsen.
BPS Foundation five special award recipients include:
New Educator of the Year: Kathryn Sindelar
Distinguished Educator of the Year: Chris Tomjack
Support Staff of the Year: DeAndra Dirkschneider
Volunteer of the Year: Danita Diamond
Distinguished Alumni: Brett Erickson, Class of 1978
Local Organization Scholarship recipients include:
TeamMates Mentoring of Bennington: Erick (Andres) Martinez, Kamdyn Blakely, & Kellen Wilkins
Bennington American Legion Auxiliary: Alexis Keatts, Godiva Kekeh, Wren Larson, Ethan Korth & Meghan Krejci
Bennington American Legion Club: Connor Ziska & Luke Woods

Sons of the American Legion Club: Daylon Heater
Bennington Lions Club: Emma Foland, Alexis Keatts, Zoe Lindsey, Evie Howard & Meghan Krejci
Bennington Athletic League: Abigail Brown & Andrew Parrish
Bennington Basketball Association: Gavin Hiatt & Ella Reinohl
Bennington Chamber of Commerce: Ainsley Schultz & Paige Ferris
Bennington Community Foundation / Dave Clark Memorial: Ainsley Schultz
West O Chamber of Commerce: Alexis Keatts
Bennington Elementary PTO: Aviana Freed, Evie Howard, Mason Pfister & Jackson Miller
Heritage Elementary PTO: Carly Bishop
Pine Creek Elementary PTO: Abigail Brown & Isaac Conner
Bennington High School / Red Cross Blood Drive: Samantha Jansen
Bennington Jaycees: Samantha Jansen, Kennedy Gansebom, & Meghan Krejci
Bennington Art Club: Kaeli Vondra
Bennington Music Boosters: Ashley Anderson, Jackson Miller, Megan Wilkins, & Kaeli Vondra
BPS Athletic Booster Club: Abigail Brown, Samantha Jansen, Gabriela Calderon & Nick Colvert
BPS Athletic Booster Club,Heart of a Champion: Alex Foltz
BPS Education Association: Steve Burgers, Morgan Dreessen & Emma Foland
Bennington Soccer Club: Avianna Freed & Cooper Willoughby
Bennington Wrestling Club: Kael Lauridsen & Andrew Parrish
Bennington Youth Football: Nick Colvert
St. John's Lutheran Church: Carly Bishop, Morgan Dreessen & Meghan Krejci
Gene Baldwin Memorial: Ella Reinoehl
Jeff Glover Memorial: Ethan Nguyen
Tom White Memorial: Lennox Hughes
#TeamCarrieEssink Memorial: Maya Wallingford