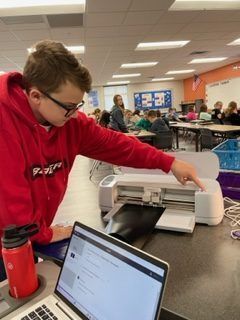 Bennington South Middle School 7th & 8th graders now have access to the latest "cutting-edge" technology enabling further customization of class projects while enriching their creativity skills – a Cricut Maker.
The Foundation's Classroom Grant program enabled BSMS Tech & Living Teacher Jane Becker to make this innovative machine available for Family and Consumer Science and Industrial Technology classes at BSMS.
"In FCS and Industrial classes the Cricut is used to cut designs for projects like pillowcases, drawstring backpacks, clocks, add-on projects for high-level learners and more," said Becker, "It helps their projects look a lot cleaner and provides more options for them to explore."
The Cricut Maker is a durable, electronic cutting machine that can cut all sorts of designs from materials like paper, vinyl, card stock, and iron-on transfers. It currently benefits 350 7th and 8th grade students with potential to expand to 6th graders, which would be an estimated 200 additional students.
"The machine is limitless with designing which makes the students more invested in their projects, exploring their creativity and really making it their own," said Becker, "It is fun to see their personalities and interests really come out!"

Support limitless tech like this and more with a donation to the Classroom Grant program >>